Scrambler Therapy® – The Medical Device Generations
A Scrambler Therapy ® device is always characterized by the same hardware and software OEM core of artificial neurons, and by the presence of 5 channels, an indispensable condition to maintain the same safety and efficacy performance validated by numerous official clinical studies and thousands of cases of chronic neuropathic and cancer pain.
Scrambler Therapy ® ST5

Prototype used for clinical studies in Italy (2297 cases of various types of serious neuropathic pain that was resistant to medications and/or electro-analgesia) until 2007. Software core of artificial neurons and the ST technology stable.
Scrambler Therapy ® MC-5A "Calmare"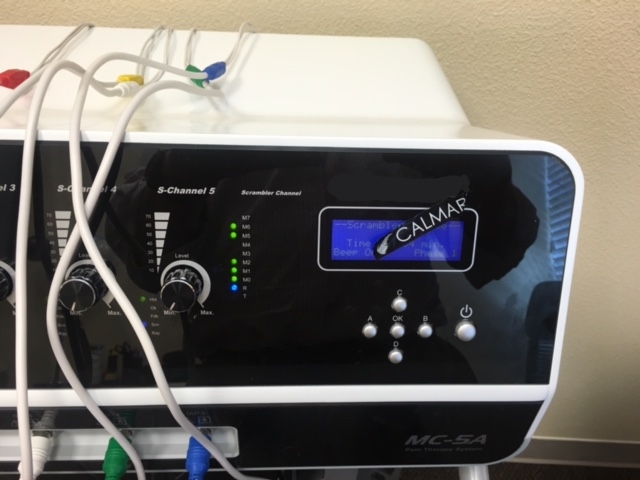 First industrialized OEM version (the hardware and software project core of artificial neurons used in clinical trials cannot be modified) known in the U.S. also with the alternative trade name of "Calmare", sometimes also present on the device with a self-adhesive label.
This device was manufactured in 2008 recognizable by the 510 (k) # K081255 and the CE 0470 marking.This device production was interrupted in 2013..
Scrambler Therapy ® Technology MC-5A
It is the new OEM version of the device, in production since 2014. Aesthetically there are no variations with the previous version, but the OEM artificial neuron core support technology external has undergone significant improvements in its reliability. This new OEM version is recognizable by the 510 (k) # K142666 and CE marking 0476. It is currently the only Scrambler Therapy® device in production.